JazzFood
JazzFood.
Staggering when done correctly. When the planets are in alignment. A daunting task under the best of circumstances. Challenging, fun, intense, rewarding. It really stretches you.
Solid technique coupled with tasteful improvisational abilities.
To me, music, food and art share so many similarities. Texture, tempo, imagination and balance come immediately to my mind.
It's all the same but in a different way.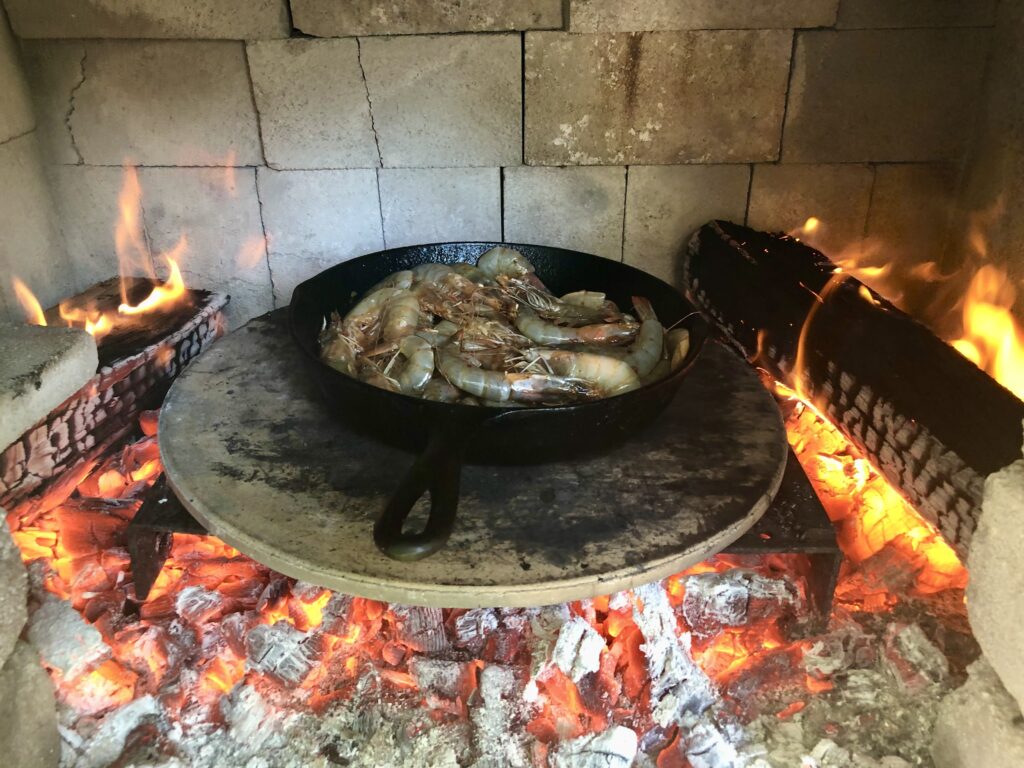 The way these particular recipes came to pass via the rules of the competition is that it's basically a mystery basket that must include the key theme of garlic.
Two Chefs competing mano a mano.
One hour. Two talented assistants. They'd be the piano and bass to my drums on a bandstand. Crowds of a few hundred sitting on bleachers watching, while three M C's deliver a running commentary.
No idea beforehand as to what the ingredients will be. Four judges for whom you make individual appetizers, entrees and, if you dare, dessert.
Talk about under a microscope.
I love the action. I do my best work when I'm inspired.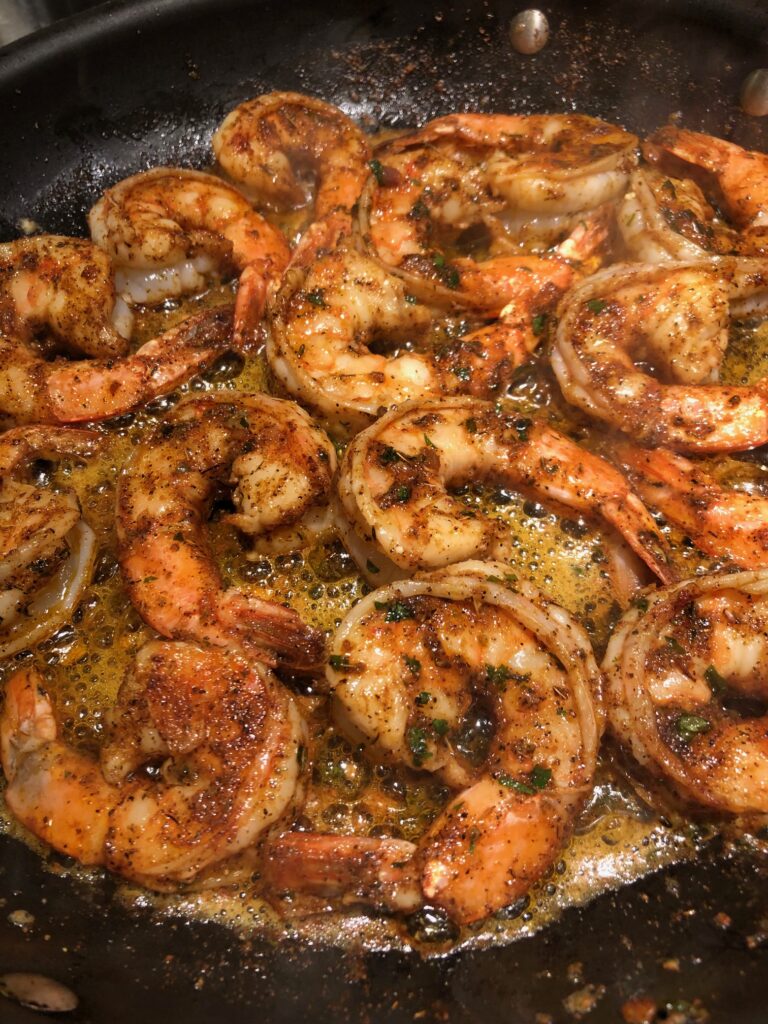 So, once again, these were all made up on the spot. No clue as to what I could expect to be working with in advance.
Spontaneous momentum.
It's been my good fortune to have spent my life playing Jazz and truly believe that this fact is what has given me a winning edge in this competition, not to mention life in general.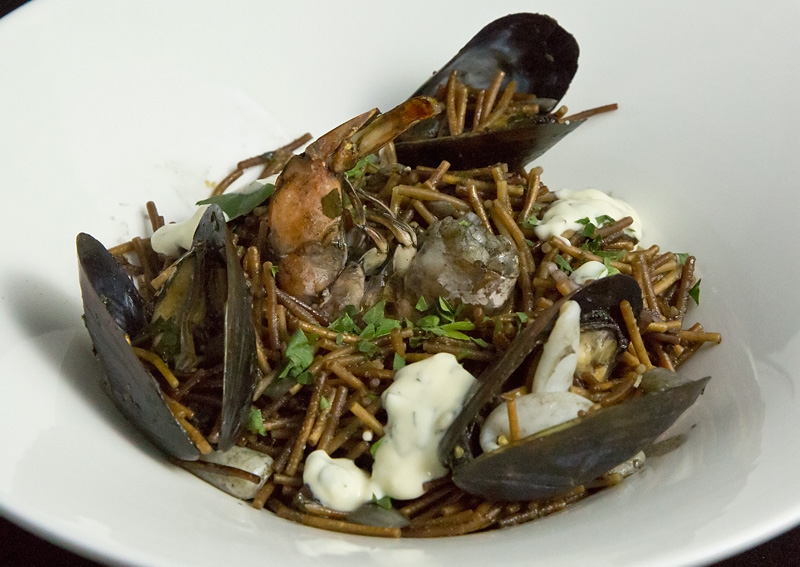 While some of my competitors may have visited, none have lived there.
Recipes became mere suggestions, teasing me to make them my own. Taunting me. Guidelines, not contracts. Soulful encounters that yielded instant gratification! Jazz cooking. Play the form, and then veer wildly into the abyss. Combining equal parts technique, wants, needs, accidents, budget, etc, my improvisational skills developed. Grooving in the kitchen is parallel to grooving on a bandstand. I could relate. A lifelong infatuation with food and music, it ís so simple, became one and the same. A culmination of a body of work spanning decades. These recipes satisfy me. Others too, evidently, as Iíve been able to parlay them into a respectable career. Follow them exactly, or take the merest snippet and adapt it to your own particular ambition. See them for what they are, a collection of ideas meant to provoke thought and pleasure. Enjoy.
These are some of the winning recipes from the South Florida Garlic Festival Professional Chef's Competition. I won it 3 years running and retired upon relocating to Chicago.


One of the intriguing recipes contained within the cookbook is the deciding dish for the 2001 Garlic Chef Competition, mystery ingredient in this round was soft shell crab.
RECIPE: SOFT SHELL CRAB OVER OVEN-ROASTED VEGETABLES WITH SPICY GARLIC SAUCE
Oven Roasted Vegetables
1 ea, assorted vegetables for roasting, cut into bite size portions such as:
Broccoli, Red Onion, Leeks, Red Pepper, Yellow Pepper, Zucchini, Yellow Squash, Whole Garlic Head (sliced 1 inch below the tail), Olive Oil, Salt & Pepper to taste
Instructions:
1. Preheat oven to 350
2. Place all ingredients (except garlic) in a bowl and toss with olive oil & salt & pepper.
3. Oil the whole cut garlic and place cut side down on sheet pan.
4. Add other vegs to sheet pan and bake turning occasionally aprox 30-45 min.
Note: do not turn the garlic.
Spicy Garlic Sauce
2 TBS Chopped Garlic
1 TBS Chopped Shallots
LG Pinch Dried Red Chili Flakes
Juice of 1 Lemon
2 OZ Olive Oil
4 OZ Noilly Prat Dry Vermouth
2 TBS Chopped Parsley
8 OZ Heavy Cream
Salt & Pepper to taste
Instructions:
1. In a heavy saucepan over high heat add olive oil and brown garlic to light golden.
2. Sweat shallots to translucent (aprox 30 seconds).
3. Add chili flakes.
4. Deglaze with lemon juice.
5. Reduce
6. Add Noilly Prat Vermouth and reduce by 50 %.
7. Add heavy cream.
8. Reduce until bubbles become larger and fewer (Approx 3-5 mins).
9. Salt & Pepper
10. Pure and add Parsley
11. Adjust seasonings if necessary, keep warm.
Soft Shells
4 Soft Shell Crabs, cleaned of lungs, tail and eyes.
Seasoned Flour
4 OZ Clarified Butter
4-6 OZ Dry White Wine
Salt & Pepper to taste1. Heat sauté pan with 1 oz clarified butter per soft shell.
2. Dredge soft shells in seasoned flour.
3. Place top down in sauté pan and brown approx 3 mins.
4. Salt & Pepper
5. Turn soft shells and brown on bottom side approx 2 mins.
6. Add white wine and reserve in oven with roasted vegs.
Assembly:
Arrange roasted vegs on plate with browned garlic head off to one side. Lean soft shell up against whole garlic head. Sauce over the crab and around the vegs.
Enjoy!
Recipe can be scaled up in direct proportion


The mystery ingredient this year was lobster. In the preceding years, it has been soft shell crab, monkfish and foie gras. Here's what I came up with on the fly:
Garlobster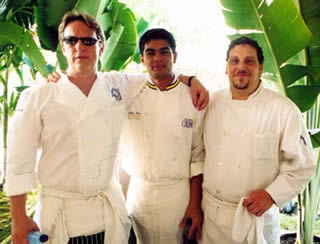 Tempura of grilled lobster medallions over asian stir-fried vegs served over coconut risotto cake with cilantro and garlic chives with a coconut curry cream sauce w/garlic, ginger and lemon grass.
Stuffed poblano pepper with poached lobster, apples, walnut, maytag blue cheese, toasted pine nuts. wrapped it like a roulade and sliced it so it looked like sushi. served over aztech succotash of corn, onions, peppers, cactus leaf, hearts of palm, sweet vermouth, finished w/sweet butter. garnished w/arugala and served with a jalapeno tomatillo sauce.
Olive oil poached lobster claws w/garlic, served over sliced caramelized butternut squash w/sauted spinach and white asparagus w/garlic. roasted garlic lemon beurre blanc.
For dessert, floating islands. quenelles of italian meringue w/pureed lobster poached in garlic cream. 2 sauces, mango and kiwi, put in a bowl with sauces opposite ea other in triangular patterns w/the quenelle in the middle. garnished w/an orange segment dipped in a blueberry coulis finished w/hazelnut liquor and butter.